Sweet and Sour Chicken
Ingredients
chicken breast

8 oz.

peanut oil

2 tsp.

sliced celery

2 cup

bok choy

4 cup

onion, diced

1 medium

rice wine vinegar

½ fl.oz.

chicken stock

4 fl.oz.

carrots, shredded

2

cornstarch

1 tbsp.

brown sugar

2 oz.

dried ginger

¼ tsp.
Directions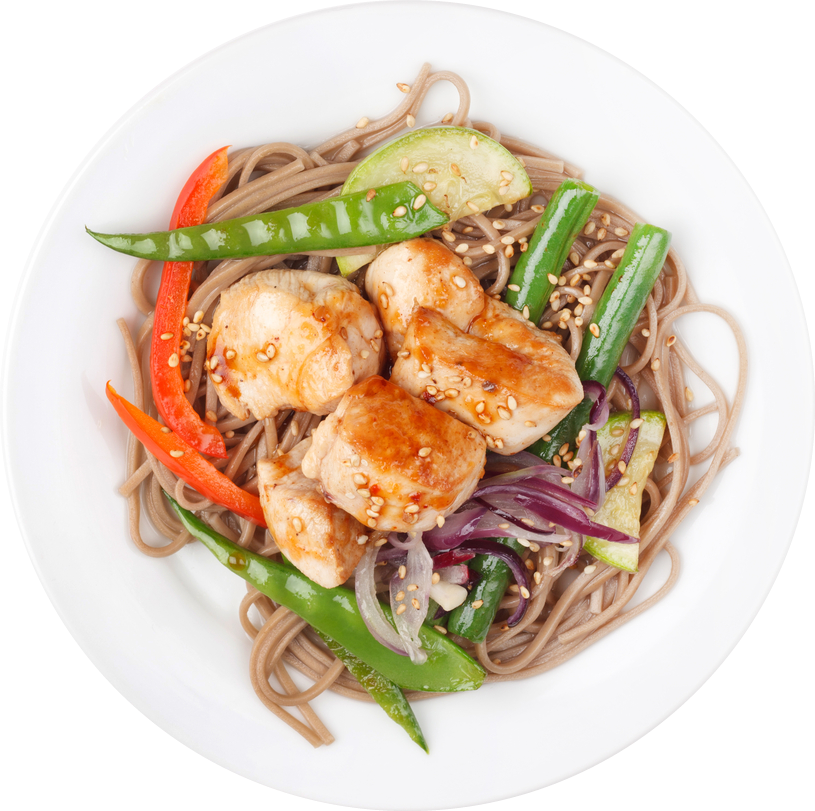 Have all ingredients chopped and ready to go. In a deep skillet or wok, heat 2 tablespoons oil over high heat. Add all vegetables and ginger. Chow (stir-fry) quickly until onion is cooked and translucent. Remove to bowl. Add 2 tablespoons oil to wok; heat. Add chicken and chow until no longer pink on outside (5–7 minutes). Mix in separate bowl sauce ingredients, making sure to mix cornstarch thoroughly. To chicken in wok, add vegetables and sauce mix. Cook over low heat until cornstarch is cooked, about 7 minutes, or until sauce is slightly thickened. Serve over hot cooked white rice.
Sweet and Sour Chinese Chicken Recipe from Foodista.com — The Cooking Encyclopedia Everyone Can Edit
Western cultures use sweet and sour sauce in two different ways. Dishes can either include the sauce as an ingredient in cooking or use the sauce as a pour-over or dipping sauce for the meal.
Chinese restaurants in Western countries commonly serve chicken, pork, or shrimp that has been battered and deep-fried, then served with a sweet and sour sauce poured over the meat. It is also common to find the sweet and sour sauce cooked with sliced green peppers, onions and pineapple before it is poured over the meat.
Common in Western sweet and sour sauce is the addition of fruits such as pineapple and vegetables such as sweet pepper and green onions. Traditional rice vinegar is becoming more readily available due to the increase in Asian food stores but a mixture of vinegar and dry sherry is often still used in sweet and sour dishes. Also common is the use of corn starch as thickener for the sauce and tomato ketchup to give a stronger red colour to the dish and to add a Western taste. Most supermarkets across Europe and America carry a range of prepared sweet and sour sauces either for adding to a stir-fry or for use as a dipping sauce.
Sweet and sour from Wikipedia, the free encyclopedia. License